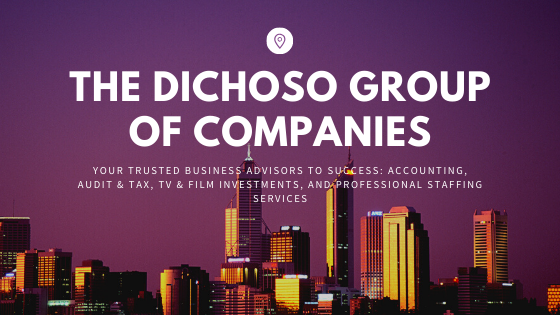 Home
THE DICHOSO GROUP OF COMPANIES
Since 2001, the Dichoso Group of Companies has been been helping businesses succeed the world over - Asia, Europe, Mexico, the Middle East and the United States.
Our mission is help businesses focus on growth by implementing our "Guide-Me-By-The-Hand" approach for easy, step-by-step action plans for all businesses to stay compliant with the myriad of accounting, audit, and tax regulations and laws. As a consequence, many of our clients have been loyal customers for many years.
From multi-state taxation compliance and IRS/State/EDD audits representation, to performing financial statement audits, developing strong internal controls and fraud prevention, to capital funding and developing business growth strategies, our staff has developed long-lasting relationships with colleagues and associates that still exist to this very day.
Our work record and ethics are impeccable. Colleagues, friends, clients and the community find us responsible, trustworthy, genuine, loyal, and operating with high integrity and morals. No wonder we have earned numerous awards and recognition.
Visit our menu modules to learn more about our services. The Dichoso Group of Companies is comprised of the following companies:
Dichoso and Company, CPA, Inc. is a full-service CPA firm providing accounting, auditing, tax, and business consulting services.
Dichoso and Company, Inc. is a professional accounting and bookkeeping staffing services company.
Our founder Van Gerard Dichoso is also co-owner of one of the most progressive TV and film production studios, River Rock Films, creating, producing and developing many of Hollywood's great films.
Visit the pages below for a more detailed explanation of our services.
Winner "2020 Beverly Hills Award" (April 2020)

UCLA PAA "Distinguished Alumnus of the Year" (UCLA 2016)

"Accountancy Lifetime Achievement Award" (Spirit Awards, 2014)

"Asia's CPA Superstar" (Philippine Times, 2008)

"A Well-Respected Accounting Firm" (Manila-US Times, 2007)

"An Account of Excellence" (In-Focus Magazine, 2007)

​​​​​​​

Click on the Images Below to Enlarge
Client Comments & Testimonies
"We enjoyed working with you and we continue to enjoy having you by our side." [Ross A.]
"Best C.P.A. in the world. Very honest!" [Ted C.]

"And I am one of those loyal customers for years and years cause you're a G-D Rockstar..." [Ben M.]

"Van speaks from his heart. I trust you now since 1995, I trust you now and will always will. .." [Susan D.]

"Thank you very much for being a role model to all the CPAs around the world." (Nick A.)

"Good service!" [Roman M.]

"Navigating the tax code needs an expert!" [Carina C.]